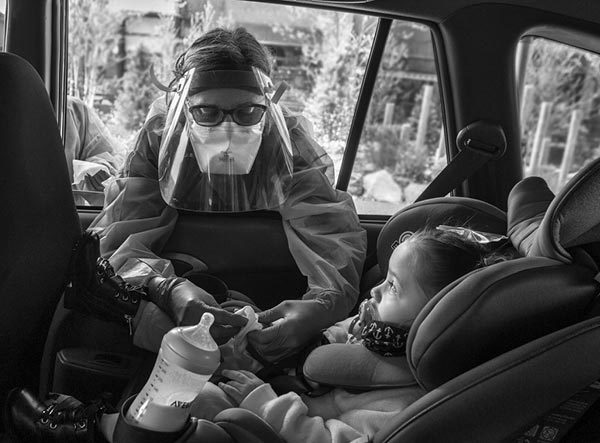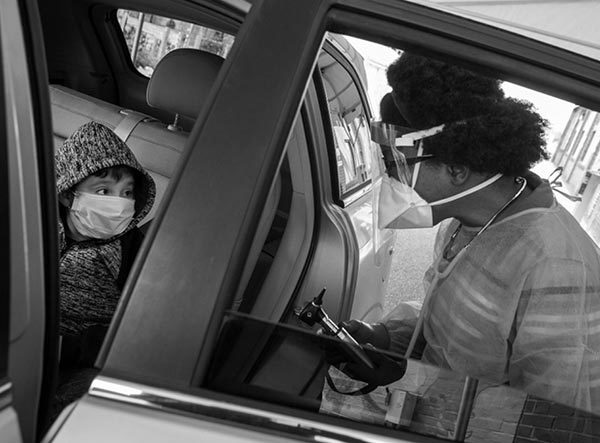 For more than a week, Jasmine Fuentes had put off taking Elias to the pediatrician as she worried about possibly exposing him to COVID-19. Then she learned that their provider, Penn State Health Medical Group – All About Children in West Reading, offered an innovative solution: curbside appointments.
In the early days of the COVID-19 pandemic, All About Children scheduled well-child appointments in the morning and sick-child appointments in the afternoon. But the staff wanted to do even more to limit patients' and providers' potential exposure to the coronavirus. They looked to their garage.
"We're fortunate to have a stand-alone building with a parking lot that wraps around," said Ellen Bryan, All About Children's practice site manager. Even better, the building has an attached garage. Staff quickly created a curbside clinic, storing the medical care team's personal protective equipment and medical supplies inside the garage to be ready for each appointment.
"Once we decided to set up a drive-through sick-visit site, it was up and running almost instantly," said Bryan. When high winds and rain put a damper on the set-up, the Penn State Health Facilities team quickly came to their rescue, setting up a canopy by the garage opening to protect both the providers and the car's occupants.
During the curbside visits, which are offered by appointment only Monday through Friday, 1 p.m. to 5 p.m., patients and their parents stay in the car — infants and toddlers even remain in secured in their car seats. That's something Fuentes found especially appealing.
"I hate unstrapping my kids and dragging them inside for an appointment," said Fuentes, who also has a 5-month-old and a 4-year-old. "This set-up was so much easier."
At the curbside clinic, providers have been able to treat sick children and also provide therapeutic injections, a second dose of the flu vaccine or other treatments. The clinic can accommodate up to 20 patients per day. Newborn and well-child appointments, including routine vaccinations, are still held inside the All About Children office.
"Our patients feel safer. Our providers feel safer," said Dr. Abdullah Sakarcan, lead physician at All About Children. While it may resemble a Jiffy Lube-type of appointment, it has proven a perfect adaptation — in the midst of a pandemic — to provide families with the best, and safest, care possible.
Elias received medication and was quickly on the mend. His mother, once so fearful about taking him to the doctor, was delighted about how safe and convenient the appointment was.
"Everyone was so prepared for our curbside sick visit," she said. "I was nervous and they quickly put me, and my son, at ease."
THIS is how we innovate in trying times.