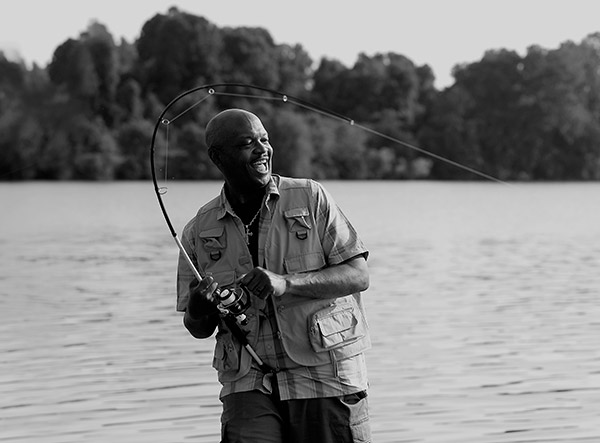 "I'm just an African American man who comes from nothing, who grew up poor," Dave said. "I categorize this as one thing – a blessing from God. I definitely didn't deserve it. There's nothing special about me."
Dave began noticing he was short of breath at a most inconvenient time a decade ago. His wife was sick with cancer, and he was her caregiver. Her quality of life was his priority – he didn't have time to slow down.
After she passed away, his life changed in many ways. He moved and eventually remarried, but one thing remained – his heart wasn't working right. Fast-forward to 2016 when Dave passed out in his kitchen.
There was no more time to spare. Dave needed a left ventricular assist device (LVAD) placed as a bridge to a heart transplant. Weighing in at 420 pounds, he also needed gastric bypass surgery to be a successful candidate for the transplant. That surgery with Dr. Ann Rogers at Penn State Health Milton S. Hershey Medical Center helped him shed 100 pounds. Since then, he's lost another 100 pounds.
While he waited for his heart, Dave suffered a stroke. His problems seemed big, but Dave knew his God was bigger. He clung to his unwavering faith that God was in control.
On May 20, 2020, Dave got a call from Penn State Heart and Vascular Institute at 12:30 a.m., telling him a heart had become available. His wife, Jenica, rushed home from her third shift job, but due to the pandemic, she had to drop him at the door. He made his nurse promise to personally call his wife if anything happened to him.
He still tears up at the memory of being alone as he faced the daunting prospect of transplant surgery, but then he remembered he wasn't alone – God was with him.
"I woke up from the surgery, and the doctor was standing at the foot of my bed… I asked him if I was dead," Dave said with a laugh. "He said no, but he had called my wife anyway."
Dave started reaching for his LVAD out of habit. "It was always with me for the past six years – it was the reason I couldn't take a shower or go swimming – but it wasn't there. It hit me – my heart was fixed."
Since then, the 55-year-old Waynesboro resident has been living life large, whether he's cooking with his wife, fishing with his brother, delivering meals to those in need or encouraging other transplant patients who reach out through his Facebook page.
"There's nothing I'm not doing. I'm unstoppable," he said. "This new heart is becoming one with this old body, and I'm so thankful!"
Dave wrote a letter of thanks to the family of the man whose heart beats within his chest. The man's wife sent back a picture of her husband standing on a fishing boat, holding a big fish he just caught. Dave says he knew the common hobby was more than a coincidence.
"I owe my life first to God and then to everyone else – including this man and all the doctors and staff at Penn State Health – who God put in my path," he said. "This was where all that going-to-church-as-a-kid stuff came true in my life. My mama taught me, 'You can do all things through Christ who gives you strength' – Philippians 4:13 – and you know what? She was right."
The Penn State Health Approach to Heart Transplant
Our program is recognized worldwide as a pioneering center for heart transplants.