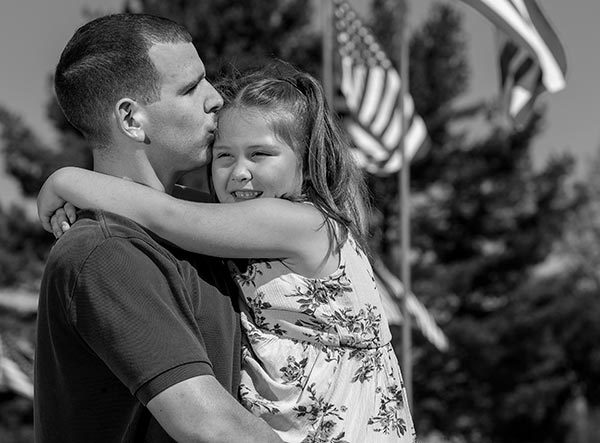 Paul didn't necessarily feel like a hero, although that's what many people called the young Marine.
When the then 22-year-old husband and father came home to Lebanon for Christmas in 2013, he was looking forward to spending some peaceful time with his family.
He didn't count on almost losing his life.
"I could feel and hear fluid swishing around in my abdomen, and it was getting increasingly bloated, but I did the typical man thing and said to myself, 'It's whatever,'" Paul said – until he couldn't deny the pain any longer.
At the Penn State Health Milton S. Hershey Medical Center Emergency Department, he was diagnosed with Budd-Chiari Syndrome, a rare condition caused by narrowing and obstruction of the veins in the liver. Immediately, the transplant team requested emergency status on the United Network for Organ Sharing national waiting list.
"Liver failure can cause changes to the brain that makes it swell, and the risk of death is extremely high," said Dr. Zakiyah Kadry, surgeon and member of the transplant team. "We were very committed to getting Paul through this. He was so young, and he had a young child."
"Nobody told me directly I was dying, but no one needed to – I knew the circumstances and I could feel the vibe," Paul said.
During an ice storm in early January that made flying unsafe, members of the Milton S. Hershey Medical Center transplant team traveled by car to Virginia to procure a liver from a deceased donor and bring it back for Paul.
"My dad saw the doctor carrying a cooler down the hall, and he knew it was my chance at life," Paul said.
This is heroism – that's what the young Marine told his doctors later, when he woke up from a successful transplant surgery to a second chance at life.
"I was very blessed by Penn State Health – they went above and beyond what's necessary, and that's something not many hospitals would do," said Paul, now age 27 and honorably discharged from the military after five years of service.
These days, his best moments are spent at the playground with Lilly, now age 6, or riding bikes and playing video games together.
"I remember looking at my daughter when I was sick and thinking I might not get to see her grow up," Paul said. "Now, she's my shadow – she follows me pretty much everywhere I go."
This is the health he needs to live the way he wants.
You can help save a life by becoming an organ donor today.