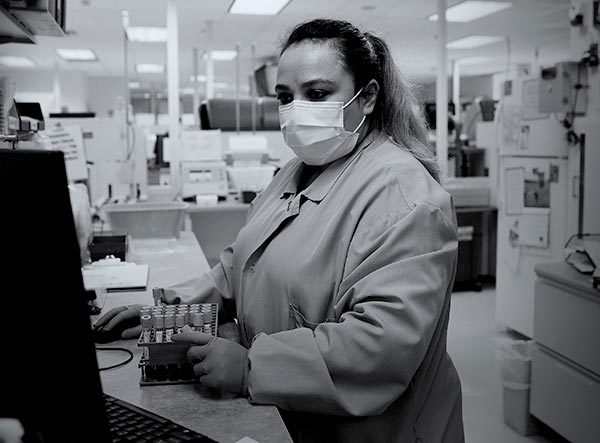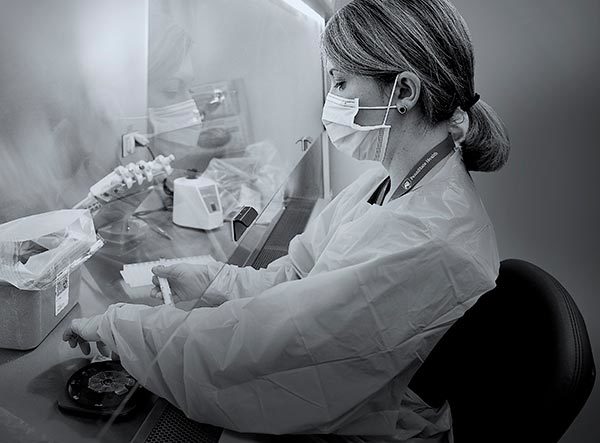 Working around the clock but largely behind the scenes, medical laboratory professionals are critical members of the health care team now – but also long before the words "social distancing" were uttered.
While the pandemic has thrust them into the spotlight – as patients, doctors and the nation look to them for the technology to provide faster results that enables faster diagnosis – laboratorians provide comprehensive testing and guidance for clinical decision-making every day of the year.
In fact, laboratory results are estimated to inform 70% of clinical decisions made in patient care, according to Dr. Melissa George, interim chair of the Department of Pathology at Penn State Health Milton S. Hershey Medical Center.
"Whatever results we give, doctors will act on, so the result has to be correct and exact – to the well-being or the harm of the patient," said Osiris Martinez Urquilla, medical laboratory scientist lead, Penn State Health St. Joseph. "We shoulder a lot of responsibility, but it makes me feel proud because I know I am making a difference."
In mid-March, with the impact of coronavirus looming but still largely unknown, the Department of Pathology at the Milton S. Hershey Medical Center issued a call for help to all its staff, asking for volunteers to assist with COVID-19 testing.
Within 12 hours, more than 40 people had stepped up, signing onto roles that held unknown challenges and time commitments but willing to fill the need because it felt like the right thing to do.
"I had staff spanning all three shifts and all areas of Pathology signed up," said Jeri Anderson, supervisor of the Virology Lab at Hershey Medical Center. "This truly shows the cohesiveness of this group of laboratorians."
Aside from those specially trained in virus testing, other staff members have stepped into critical patient management roles involving frequent lab monitoring, including chemistry and hematology tests, while specimen processors and technicians are answering phones to provide crucial support to COVID testing efforts.
"Cross-training between pathology departments ensured that we have enough help to manage the large volume of specimens and ensures continuity of lab testing if previously trained staff become ill or have to quarantine," said Gwen Howell, interim director of Pathology and Laboratory Operations at Hershey Medical Center, which includes Clinical Pathology, Anatomic Pathology and Experimental Pathology.
"We have a very cohesive and dedicated group of staff whose support and commitment are very commendable," said Linda Gallagher, laboratory director of operations, Penn State Health St. Joseph.
Beyond Hershey and Reading, active laboratories also operate at Penn State Health Medical Group ― Benner Pike in State College and Penn State Health Lime Spring Outpatient Center in Lancaster, ensuring coverage for patients across many counties.
In addition to processing and analyzing laboratory specimens, lab professionals are very much involved in innovating treatment options, such as an experimental COVID-19 treatment involving convalescent plasma therapy.
Pathology is made up of a diverse group of professionals. Many hold a bachelor's degree and are certified as medical laboratory scientists, while others earn associate's degrees and are certified medical laboratory technicians. Many positions within Pathology require advanced degrees, said Mary Beth Miele, education coordinator and director of the Medical Laboratory Science Program.
That program provides on-site training that results in a certificate in medical laboratory science from Hershey Medical Center while fulfilling requirements for a bachelor's-level degree in a medical laboratory science-related major from the affiliating college or university.
During the long days – and sleepless nights – of the COVID-19 crisis, Anderson said she prays for medical staff and their families to stay healthy.
To show their appreciation to fellow health care workers, the Department of Pathology is sending thank you cards to departments throughout Penn State Health.
"We are sailing into uncharted waters, and the Department of Pathology teams are inspired and humbled by the dedication and volunteerism that we see happening all around this health system," said Will Neide, supervisor, Hematology and Special Hematology Lab at Hershey Medical Center. "We're proud to be part of this amazing group."