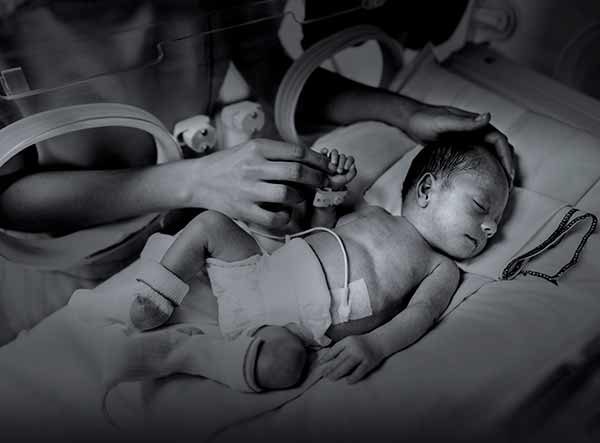 "If you came to the NICU with me and saw a baby struggling to breathe, and you knew the next step was to put a tube down the baby's throat that would cause lung damage, you would be looking for a solution, too," said Palmer, who often tried to work out the basics of a device prototype at home in his garage. "You see suffering, and you want to relieve that suffering."
Fifty to 70% of NICU babies have problems breathing because their lungs are underdeveloped.
"It's like trying to inflate a balloon that's empty – right from the beginning it's hard to get the lungs to open – and these babies have a very soft chest wall that buckles inward when they try to expand their chest to breathe," Palmer said. "I wanted to find a way to support the baby's chest for easier breathing and to reduce injury and discomfort."
But how?
Benefiting from the connection that only an academic medical center can foster, Palmer joined his clinical expertise with engineering know-how from colleagues like Dr. William Weiss, bioengineering professor at the College of Medicine.
"We have a whole team of respiratory therapists every day in the NICU dealing with babies like this, and so we bring our combined resources to handle this problem," Palmer said. "The collaboration has been absolutely essential because there are things that engineers are experts at that clinicians are not."
The result is a silicon vest-like structure that can be applied directly to the skin of baby's chest and abdomen.
"When we inflate that with air, it moves the chest and the belly outward to simulate the action of breathing," Palmer said. "We can also use smart sensors to synchronize our effort to support the baby with his or her spontaneous breathing effort and vary the amount that we provide."
The process has been painstaking as the idea was refined, and the team kept growing to include those with expertise in material science, bioengineering and obtaining and measuring physiological signals in the tiny patients.
Future steps taken right here in Hershey – patenting and marketing the vest – will improve the lives of babies with breathing issues not just here in our community, but worldwide, Palmer said.
"The process of discovery toward a goal that has benefit for patients is pretty exciting…You sit across from one another, look eye to eye, understand the limits of your own expertise and wait for the spark to happen, and when it does, it's magic," Palmer said.
This is why we're always researching, learning and innovating: to find solutions that help the people of our community and beyond. Because this is the health we need to live the way we want.